About
YGN Ethical Hacker Group (YEHG)
The YEHG is a dedicated IT Security Research Group established in September 2007 (Web Site launched in January 2008). It is not a political anti-government or pro-government hacktivist group. It presents in the public scene to represent our Country - Myanmar (Burma). One part of gigantic aims and interests we had is to break the boundaries, nurture and promote next generation talented hackers like Ye Yint and Ethan. Years of hardwork have finally been paid off.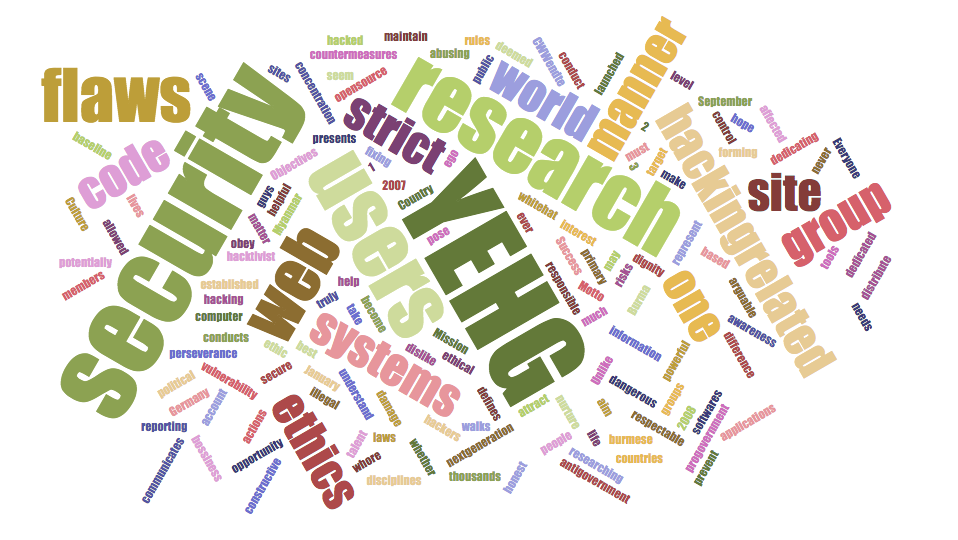 Motto
"Success in life is a matter not so much of talent and opportunity as of concentration and perseverance." -- C.W.Wendte .


Mission
To become one of the best, respectable, powerful groups in the world who're ever dedicating their lives in ethical hacking and countermeasures.


Objectives
1. To make awareness of information security needs for all walks of computer users
2. To attract and nurture next-generation white-hat burmese hackers
3. To help secure open-source applications


Code of Ethics
Unlike most people in the world, the YEHG guys truly understand the difference between researching security flaws and abusing them. Our baseline ethic is we never do damage to target systems and users. The YEHG defines its own code of conduct and ethics in vulnerability research based on the level of risks that pose to users of affected softwares, systems and web sites. The YEHG does not take into account whether its conducts may seem arguable in laws of other countries which have strict control of hacking-related actions. In Germany, no one is allowed to distribute hacking-related tools and do potentially dangerous security research. In US, reporting web site security flaws in the hope of fixing security flaws to prevent thousands of users' being hacked is deemed illegal.


Culture
There are some strict rules and disciplines to maintain the dignity of YEHG that all YEHG members must obey. We, at YEHG, dislike ego and bossiness. Everyone communicates each other in a constructive, honest and helpful manner.